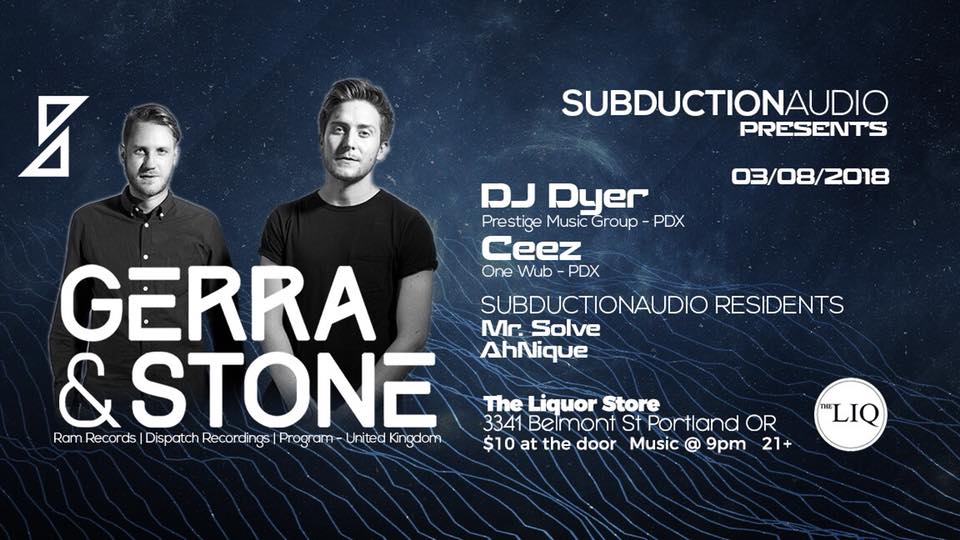 Subduction Audio Presents: Gerra & Stone (UK)

| | |
| --- | --- |
| | Mr. Solve |
| | March 8, 2018 |
| | Portland OR, USA |
| | The Liquor Store |
Subduction Audio Presents:
Gerra & Stone (UK)
[RAM / Dispatch / Shogun Audio]
Dyer (PDX)
[Prestige Music Group]
Ceez (PDX)
[One Wub]
AhNique (PDX)
[Subduction Audio]
Mr. Solve(PDX)
[Subduction Audio]
March 8th, 2018
9:00PM – 2:00AM
$10
21+
The Liquor Store
3341 SE Belmont
Portland, OR 97214
Funktion-One SOUND!!!!!!!!
BIRTHDAYS!!!
Anyone with a birthday on March 7th, 8th, or 9th admitted FREE OF CHARGE. (*ID verification required)
*******************************************************
Artist Bios & Links
Gerra & Stone (UK)
[RAM / Dispatch / Shogun Audio]
Harry Hackett & David Stone aka Gerra & Stone have risen rapidly through the Drum & Bass world over the last 5 years. Having released on such commercially acclaimed labels as Ram Records, alongside underground tastemakers like Dispatch Recordings – its fair to say their production style thrives on diversity.
The duo are equally at home taking a more soulful, vocal orientated direction with their music, for instance 2015's release 'Unbreakable', as they are with more straight up dance floor smashers such as 'Too Deep' and 'L.I.E.S'. Its easy to see how their records have not only gained support from the majority of leading DJ's in the genre such as Andy C and Friction, but are just as likely to be heard at deeper, underground Drum & Bass parties across the globe.
This diversity has lead to releases and remixes regularly charting into the genre's top 10 on popular distribution platform Beatport, and taken their DJ career worldwide. The pair have extensively toured the UK and EU as well as more recently taking the G&S sound to North America, Canada, Australia, New Zealand and Asia – alongside being invited to record DJ mixes for brands such as BBC Radio1/ 1xtra, Ministry of Sound, and Drum & Bass arena.
Looking forward, they are now poised on the release of their debut album for Dispatch Recordings – entitled 'Polarism'.

http://www.facebook.com/GerraandStone/
https://www.instagram.com/gerraandstone
////////////////////////////////////////////////////////////////////////////////////////////////
Dyer (LA / PDX)
[Prestige Music Group]
David Dyer has been well involved with Drum and Bass music for nearly 20 years! Coming up in Central Florida, Dyer became aware of the beats and breaks at a high school age, and rapidly graduated to devoted manager of The Drop Shop, Orlando's premier dance music record store (now dissolved, but forever in our hearts). It was there that David amassed an enormous record collection, and began broadcasting the 'Future Flavaz' DnB show with cohort LT. Smash. After years on the Bassdrive channel, the duo set out to begin throwing events in the Orlando area. After booking many influential DJs pushing the deeper styles, the progression turned their efforts towards establishing a record label project entitled the 'Prestige Music Group' in 2007. Now with 10 years in the game as label owners, and nearly 100 tunes in the catalog, both Dyer and LT have been living on the West Coast for nearly the same duration. Dyer has been moonlighting as a DJ/Label owner, while holding down a 9-5 with The Hundreds is Huge Inc. as their E-Commerce manager. Now with a new chapter on the horizon, Dyer sets his sites on Portland Oregon as he prepares to join the family at La Mota. Of course the moonlighting will ever continue as he pushes the label project to new heights, and joins the vibrant community in the Portland area. Look for Dyer out in your scene, and say Hi when you see 'em!

http://www.youtube.com/prestigemusicgroup
@prestigemusicgroup
////////////////////////////////////////////////////////////////////////////////////////////////
Ceez (PDX)
[One Wub]
So how the heck did I become "DJ Ceez"? Well it all started when my older brother Joey and my cousin Daisy where talkin about this type of music called techno. I was 10 at the time in 1991 when LA Style's album was purchased by Joe. We listened to it a lot. He would then go on to purchase Cajmere, DMC House Music compilations, Outhere Brothers and all kinds of awesome house music that just seemed naturally fitting to me. We moved up to Oregon soon after and I would visit LA every summer. Joey would give me a list of stuff to look out for….he especially wanted me to record "The Power Tools Mixshow" starring legendary DJ Richard Vission. This particular summer we had Vission's "This Is My House" mix cd. Soon after Bad Boy Bill came out with "Bangin The Box"…..and then behold the power of the DJ gods, they made a collaborative mix CD called "House Connection". Thats when I knew I wanted to become a DJ.
The name Ceez derived from a kid I knew named Carlton back in middle school. See, my name is Cesar….but its pronounced like Caesar….the salad. Carlton shortened up the name and it stuck. As years went on it was cool that I would introduce myself as Cesar and after people got to know me they would themselves shorten it as if it was naturally intended to be that way. I accept my name because it is in fact my name. I was gonna go with DJ Robot Boner but sometimes dj names can be to silly. I learned this year that Carlton died. Rest in peace man. You were the first.
I do owe credit to Hanif Panni for actually being the first person to write it out on our very first flyer that that he illustrated. In 2002 he managed to book us at this spot called Diablo's Downtown Lounge in Eugene, Oregon. Hanif comes from a very musically diverse family and showed me so much good music that was out there in the underground hip hop world. He taught me how to mix. I soon started buying vinyl left and right and established a pretty decent collection. All the while I was also building my true record crates of house and breaks. In 2003, Howie and Anmar, a crew by the name of Vinyl Pimpz approached me at Diablo's and asked me to open up for them on Saturdays for their legendary House Nite's. I did this for a while until they finally let me be part of their crew. We tore it up and were soon being asked to play outdoor partys, house partys….all partys. We're a badass force of DJs if I do say so myself.
So look out, whether it be myself or Vinyl Pimpz…..I'm ready to make that ass shake. Its always a good time. Thank you for your time and have a great day!

https://www.facebook.com/ceezmorales/
https://www.instagram.com/ceez_morales
https://www.facebook.com/OneWubSound/
////////////////////////////////////////////////////////////////////////////////////////////////
AhNique (PDX)
[Subduction Audio]
www.soundcloud.com/ahnique
////////////////////////////////////////////////////////////////////////////////////////////////
Mr. Solve (PDX)
[Subduction Audio]
************************************************************************
These beats brought to you by Subduction Audio. Sharing is caring. Thank you for your support!
www.subductionaudio.com
www.soundcloud.com/subductionaudio
www.facebook.com/subductionaudio
www.twitter.com/subductionaudio
www.instagram.com/subductionaudio